I'd smoked my mind the night before with cigarettes and songs that I'd been picking...

It's late afternoon and I think my eyeballs are about to fall out. I've been smoking all day and my mouth is sore and dry. It feels as if I've been sucking on the exhaust. Kate's got a bad case of the noddies too. Every time her head sags forward, I jab her with my ballpoint pen to wake her up. Her left arm is covered in lines and dots. It's the only thing that keeps us going.

But I lit my first and watched a small kid playing with a can that he was kicking...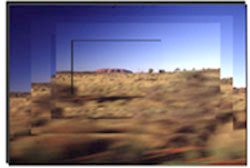 I'm trying to keep a sharp look out to make sure we don't miss anything. I don't like to think we've overlooked something. The way I figure it, we can't go on until we're sure we've seen everything. Right now, I can see scraggy bushes and the sparkle of broken glass by the roadside. I know we can't go on like this forever. We have to let things slide. Out of sight, out of mind is what I say and I believe it too. I'm a changed person, I really am.

Then I walked across the street and caught the Sunday smell of someone's frying chicken...

We're driving through a town when we see this big ugly pub up ahead so we decide to hit it. Kate's out of the car as soon as it's parked. She lobs the keys to me over the roof of the car and I lock the doors, making sure that all valuables are stowed safely out of sight. This makes me laugh. My old man always kept us waiting while he locked the car, checking each door handle two or three times, just to be on the safe side. It used to drive me nuts.

It's hot out on the street. Nothing moves.

And Lord, it took me back to something that I lost somewhere, somehow along the way...

At the entrance to the front bar I pause for a moment, soaking in the rattle of glasses, the slam of a fridge door and that lazy pub laughter.
Kate is already getting to know the locals, squeezing in between some cowboys sitting at the bar. She grabs a hunk on either side and starts talking to them real quietly. They're fine looking boys, all curly hair and thick necks, brimming with ruddy good health. Their heads bunch together, leaning in catch Kate's words. When she finishes they all burst out laughing. Kate sees me and makes a face. I go and sit down.

A man comes over and asks me if I'd like some prawns.
Prawns? I say. Where do you get your prawns?
Right here, he says with a beaming face. I have a farm. People round here love my prawns.
The man's face is impossibly pink. He looks a bit like a freshly cooked prawn.
I won't let you leave town without some of my prawns, he says.
OK, I say. I'm very fond of prawns.

The pub is filling up now and everybody's having a fine time, shouting insults across the bar or muttering together in small groups, heads wreathed in cigarette smoke. I feel as if I know these people already, like finding a long lost family. There's some footy on the telly so I sit for a while enjoying the blur of colours and the mix of angles. A tiny voice says,
He did really well to stay alive there...

Another man comes over and asks me if I'd like to go up in a hot air balloon. He's got a beard and a red T-shirt with picture of a balloon printed on it. There's a little basket hanging underneath the balloon and a bearded man is leaning out of it. His head is almost as big as the balloon.
Is that supposed to be you? I ask.
That's right, he says. Bob's Balloon Adventures. Let me take you up some time. This is the perfect spot for ballooning.

Pretty soon, I'm being introduced to everybody and we're having the time of our lives. Kate and the boys are still at the bar, their laughter loose and fresh as if nobody cares what noise they make now. An off-duty cop tells us about headless bodies in shallow graves, lonely men with bloody axes and the worst multi-vehicle pile-up in living memory. That sets us off with our own horror stories and I just know that I'll end up showing them my scars.
Still, it's good to know we don't need to talk about sport in order to express our emotions. It's a very healthy sign.