The woman stands in the middle of the office and surveys the piles of paper. She knows each pile by heart now and can recount their various histories – how they came into being, how they grew and evolved, separated and became new piles. She moves slowly through the office, stopping occasionally to touch a pile like a parent absent-mindedly fondling a child's head.

The woman is not thinking about what she does. She is thinking about leaving. She has rehearsed it many times before. In her mind's eye, she can see the journey they are about to make, the days they will spend together driving across the desert with nothing to look at except the road and the sky and the red dirt. This is their chance to really get to know each other.

Perhaps they are travelling into the night and she is asleep in the back. The rain has stopped now and she can hear the gentle drone of the radio, the soft, dreamy voice which speaks to her from deep within the body of the car.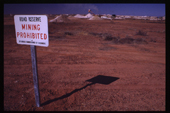 The woman kneels in front of a pile. By the time she has finished here, the man will have found a car. It's just a matter of waiting. Something always turns up. It doesn't matter what sort it is just so long as it has a good engine. One careful owner, no rust. Runs well. Absolutely nothing to spend.

The woman feels the weight of the lighter in the palm of her hand, the smooth metallic case cool against her skin. She flips open the lid, psst, and a little yellow flame springs to life.

Soon flames are climbing up the pile, racing to reach the top, eating into the heart of the paper so that before the top layers are alight, the pile is already lurching to one side.

The woman continues on, stopping now and then to allow a new flame to take hold and spread and grow. At the entrance to the fire escape, she pauses and looks back at the pillars of fire sighing and collapsing under the weight of combustion. The flames scurry across the floor and along the ceiling, joining together with a delighted WHOOF. When the heat reaches a certain intensity, the windows start to bulge slightly, as if about to retch, and the next moment they explode in a fine spray and the flames leap out into the black night.